Are you looking for hidden gems along Maryland's Eastern Shore? While there is plenty to see and do right here in historic Chestertown, many of our guests enjoy taking a day trip to St. Michaels, MD, during their stay. Filled with bustling marinas, fabulous restaurants, and one-of-a-kind boutiques, this charming waterfront town is well worth the visit. Here's what you'll discover when you go! 
Things to Do in St. Michaels, MD
Whether you're exploring by land or by sea, you'll love every second of your visit to St. Michaels, MD. Once known as a hub for shipbuilding and oystering, this Eastern Shore of Maryland town is now a prime destination for boaters, outdoor enthusiasts, and history buffs alike. Spend a day exploring museums and historic sites, get out and kayak along beautiful creeks and rivers, or sip your way through some of Maryland's best wineries, breweries, and distilleries. The possibilities are endless! 
 For a day trip, we recommend adding the following activities to your itinerary:
1. Visit the Chesapeake Bay Maritime Museum
If there's one thing you must do in St. Michaels, it's visit the Chesapeake Bay Maritime Museum! This 18-acre interactive museum features an excellent collection of Chesapeake Bay artifacts, exhibitions, and a floating fleet of historic boats. Take a step back in time and learn about the history and culture of our gorgeous region. Climb to the top of the 1879 Hooper Strait Lighthouse and enjoy breathtaking views of the harbor. Or, hop aboard the museum's 1920 Winnie Estelle boat and enjoy a scenic river cruise. One thing's for sure: you won't run out of ways to explore at the Chesapeake Bay Maritime Museum!
2. Take a Boat Tour Along the Miles River
Speaking of boat tours, here are two other great river cruises to add to your list! Patriot Cruises offers some of the best historical, narrated cruises in St. Michaels. Enjoy the ride as your experienced guide tells you all about the town's history, which dates back before the American Revolution. Along the way, you'll see 300-year-old Victorian mansions, beautiful scenery, and native wildlife. Keep an eye out for dolphins and osprey! 
Sail Selina II also offers excellent Chesapeake Bay boat tours and sailing charters in St. Michaels, MD. This luxury sailing yacht can accommodate a total of 6 guests, so it's perfect for those who are looking for a more intimate experience. 
3. Reconnect With Nature
From fishing and boating to sailing and kayaking, St. Michaels is an outdoor enthusiast's dream. Would you like to spend a day on the water? Enjoy a relaxing paddle along San Domingo Creek, Oak Creek, Miles River, or Leadenham Creek. Are you planning to do some fishing while on vacation? Cast a line right into the Bay for carp, catfish, largemouth bass, and rainbow trout. If you'd like to get your adrenaline pumping, rent bikes and pedal along scenic route 33 or scenic nature trails. 
4. Dive Into History at St. Michaels Museum
Calling all history buffs! Located inside a 19th-century home, the St. Michaels Museum features regional exhibits and walking tours. Docent-led tours are held on Saturdays at 10 a.m. from May through October. However, you can also download a copy of the museum's tour guide and take a self-guided tour any day you please. 
5. Sample Delicious Wine, Brews, and Spirits
When you're ready to unwind, check out some of the breweries, wineries, and distilleries in St. Michaels. Lyon Distilling is a favorite spot for locals and visitors alike. This popular nano craft distillery is especially famous for its small-batch rum. Stop into the tasting room (it's open 7 days a week) and sample some of Maryland's finest liquors!
Perhaps you're in the mood for an ice-cold beer? Enjoy a tasting at Eastern Shore Brewing! The oldest brewery on the Eastern Shore of MD, it's also one of the best. From amber ales and hoppy IPA's to dark and delicious porters, their award-winning brews are sure to impress! And wine-lovers will want to stop into St. Michaels Winery. This local winery has more than 18 delicious wines to choose from. No reservations are required so feel free to drop in and try them all!
Dining in St. Michaels, MD
Are you craving fresh Maryland blue crab? Perhaps you're in the mood for authentic Italian, Irish, or Southern cuisine? When it comes to St. Michaels, MD, restaurants, the hardest decision you'll have to make is which one to try first. From casual crab houses to romantic bistros and fine dining establishments, there are so many amazing places to drink and dine. Here are some of our top recommendations for a day trip: 
1.
Ava's Pizzeria and Wine Bar
This cozy restaurant is one of the town's most popular eateries for a reason. Stop into Ava's for delicious Italian fare, wood-fired pizzas, and seafood fresh from the Bay. 
2. The Crab Claw
Nothing compares to the taste of fresh Maryland blue crab! This local crab shack opened in 1965 and has been serving up delicious seafood ever since. Order up and enjoy beautiful views of the Miles River while you dine!
3. 208 Talbot
If you're looking for a fine dining experience, you must try 208 Talbot. With entrees like Pistachio-Crusted Rack of Lamb, Wasabi Ahi Tuna, Seafood Crepes, and Veal Scallopini, each mouthwatering dish sounds better than the last. There is also a separate Tavern menu if you prefer a more casual dining atmosphere.
4. Bistro St. Michaels
With a romantic ambiance and delicious New American fare, Bistro St. Michaels is a favorite brunch and dinner spot. The menu features an array of hors d'oeuvres, savory soups, salads, entrees, and wine. We highly recommend the Coq Au Vin and Lamb Ragout!
5. Justine's Ice Cream Parlor
After lunch or dinner, stop into Justine's Ice Cream Parlor for some of the best scoops along Maryland's Eastern Shore. Choose from 42 premium flavors of hand-dipped ice cream, soft-serve ice cream, frozen yogurts, sorbet, and sherbets! 
Shopping in St. Michaels, MD
St. Michaels also offers fabulous shopping opportunities. Here, you'll find unique antique stores, trendy boutiques, nautical-themed specialty stores, art galleries and much more. The following are some of our favorite shops:
1. Chesapeake Trading Company
If you're on the hunt for a new outfit, head over to Chesapeake Trading Company. This casual yet chic boutique store has a great selection of men and women's apparel, as well as jewelry, home goods, gifts, books, music, and more.
2. Ophiuroidea
Also called The "O" by locals, this coastal-inspired boutique features an array of clothing, handcrafted nautical items, mermaid art, sea glass jewelry, coastal furniture, and home goods. Check them out for one-of-a-kind finds!
3. Simpatico
Foodies will love shopping at Simpatico, a little piece of Italy located in the heart of St. Michaels. Here, you can find exclusive "Made in Italy" items such as fine wine, artisan cheeses, meats, olive oils, pasta and risotto, desserts, and much more. They also carry a unique selection of ceramics and gift baskets. 
4. Antiques on Talbot
For Eastern Shore antiques, take your time browsing Antiques on Talbot. This popular antique shop features everything from oyster plates and sterling silver to artwork, quilts, linens and more. 
5. Silver Linings
Are you looking for a dazzling new necklace or a pair of nautical earrings? Stop into Silver Linings for genuine sterling silver and gemstone jewelry. We especially love the unique Chesapeake Bay-themed collection.
Come Home to Brampton Inn For a Great Night's Rest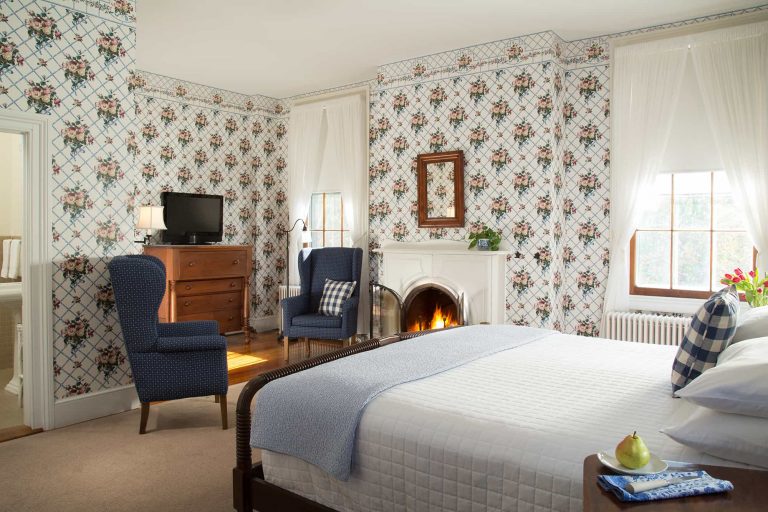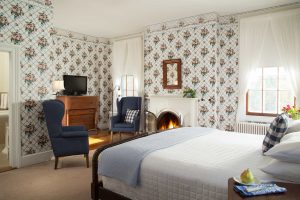 After a fabulous day trip to St. Michaels, MD, come back to our historic Chestertown bed and breakfast and unwind. Brampton Inn offers the most romantic and comfortable lodging experiences along the Eastern Shore of Maryland. Located one hour from St. Michaels, our inn is just minutes from the best restaurants, shops, and things to do in Chestertown. If you're looking for luxurious accommodations, top-notch amenities, and delicious food, this is the ideal choice for your getaway! 
During your stay at Brampton Inn, you can expect to start off each morning right with a delicious, homemade breakfast to send you on your way. After a day of adventure, come kick back and relax in your room or cottage. Or, join us for our complimentary Afternoon Tea Time and Social Hour. Are you ready for an unforgettable vacation along Maryland's Eastern Shore?
Book Now