Are you ready for a break from the hustle and bustle of busy city life? Would you like to enjoy a relaxing winter getaway that's just a short drive from your home? Come escape to the Eastern Shore of Maryland! Just across the Chesapeake Bay, Chestertown is one of the best weekend trips from Baltimore in winter. Get ready to play in the snow, explore historic Chestertown, or warm up by the fire at Brampton Inn. The possibilities are endless!
See for yourself why the Eastern Shore of Maryland is one of the best weekend trips from Baltimore in winter! 
How Far Is it From Baltimore to Chestertown, MD?
Chestertown is one of the best vacations within 1 1/2 hours of Baltimore, and driving here is a breeze! The easiest way to get to Chestertown is by going South across the Chesapeake Bay Bridge. You can also drive around the bay via I-95 North and MD 213 South. This northern route via Elkton just adds 20 minutes to your trip and is equally as scenic. 
Things to Do in Chestertown in Winter
Are you ready to experience one of the best winter getaways in Maryland? Here's how to enjoy your vacation to the fullest! 
1. See the Tundra Swans
Each winter, flocks of majestic tundra swans gather along the Eastern Shore of Maryland. The swans typically begin to arrive in mid-November and depart in March. Nature-lovers can get an up-close look at these beautiful creatures in their natural habitat at the Eastern Neck Wildlife Refuge. Make sure to bring your camera! You may also spot bald eagles, Canada Geese, ducks, mallards, fox, deer, groundhogs, and wild turkey. 
2. Explore Chestertown
With fabulous dining, fascinating historic sites, and a thriving arts scene, Chestertown has so much to offer year-round. There are fewer crowds during this time of year, which is ideal for browsing the local shops, galleries, and museums. Take a stroll around Washington College, explore the exhibits at Massoni Art, or enjoy delicious cuisine at one of the local restaurants. And if you're visiting in December, don't miss Dickens of a Christmas! Held downtown, this annual themed event includes festive carriage rides, fire dancers, entertainment, street theatre, a 5K race, and so much more. There's no better way to kick off the holiday season!
3. Play in the Snow
When fresh blankets of snow cover the ground, the Eastern Shore of Maryland transforms into a winter wonderland just waiting to be explored. Strap on your snowshoes and walk through dazzling snowy landscapes. Or, bring your cross country skis to Adkins Arboretum and glide along 5 scenic nature trails. Afterward, come home to Brampton Inn and warm up with a cup of hot tea! 
4. Sample Winter Wines 
If you're looking for something romantic to do with your sweetheart, why not enjoy a tasting at Crow Vineyard and Winery? Just minutes from Brampton Inn, the winery features a wide array of award-winning selections. In fact, their wines have achieved gold status at international competitions for four years in a row! Come sample some for yourself in their tasting room, which is open daily from noon until 5 p.m. From Sparkling Vidal to compelling red blends, there is something for every wine-lover here!
5. Slurp Oysters on the Half Shell
Winter is also prime oyster season along the Eastern Shore of Maryland. Beginning in December, join us at Brampton Inn each Saturday for fresh oysters on the half-shell (with house-made mignonettes and cocktail sauces). In addition to seasonal oysters, our guests can enjoy a wide range of complimentary appetizers, treats, and refreshments during our Tea Time and Social Hour. Other savories and sweets may include peach cobbler, mini quiches, fine cheeses and crackers, homemade spiced nuts, and much more. They are prepared fresh each day!
Enjoy a Relaxing Winter Break at Brampton Inn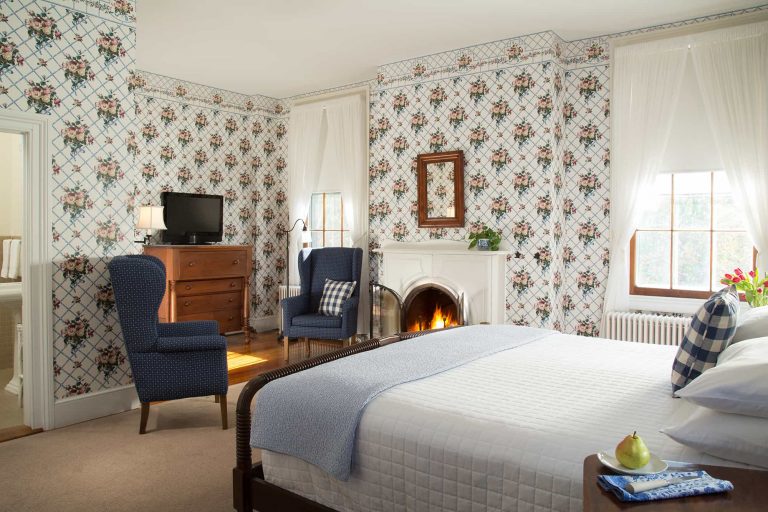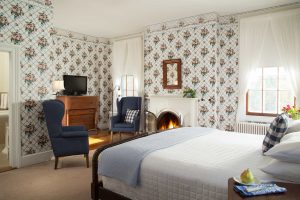 Winter is one of the quieter seasons along the Eastern Shore of Maryland. With fewer crowds and lower rates, this is an ideal time to book your stay at Brampton Inn! Our well-appointed rooms and cottages feature top-notch amenities to ensure that your stay is a relaxing one. Plus, each of our accommodations features a fireplace to keep you warm during the colder months. Wouldn't you like to experience one of the best weekend trips from Baltimore in winter?
With plenty of space and privacy, our Green Room would be a wonderful choice for your Eastern Shore of Maryland getaway. Enjoy comfortable furnishings, gorgeous treetop views, and complimentary breakfast each morning. Are you ready to experience one of the best weekend trips from Baltimore in winter? Check our availability and book your stay today. We can't wait to welcome you!
Book Now