As parents, there's nothing more rewarding than seeing your child excel at college. If you were just dropping your child off for their first year at university, then Parents Weekend is just around the corner. Every fall, Washington College Parents Weekend gives parents the opportunity to tour the campus, learn about their student's research, and experience historic Chestertown. 
When you're ready to make your Fall Family Weekend plans, consider booking a room at Brampton Inn. Our luxurious suites and cottages include complimentary breakfast every morning and are just a five-minute drive from the college.
Make Your Plans for Washington College Parents Weekend
About Washington College
Washington College is named after the school's most well-known alumnus, George Washington. It was founded after the conclusion of the Revolutionary War in 1782. Washington served on the college's Board of Visitors and Governors for five years until he became the first President of the United States.
Today, the university is a small, private liberal arts college in the heart of our historic town.
Parents Weekend Events
Parents Weekend is an annual tradition that brings students and their families closer together. Registration opens during the summer, and the event takes place for four days in late September.
When you visit Washington College for Fall Family Weekend, you'll get a tour of campus, listen to student research presentations, and learn about your child's favorite on-campus organization. One of the best parts of the weekend is the Waterfront Festival in Wilmer Park. The afternoon features a hilarious and entertaining cardboard boat race in the Chester River.
Explore Chestertown
While the main purpose of Washington College Parents Weekend is to learn about your student's campus life, it's also a great opportunity to discover Chestertown. Reset in nature at the Eastern Neck Wildlife Refuge, go on a shopping spree downtown, or enjoy a delicious meal at 98 Cannon Riverfront Grille. No matter how you decide to spend your long weekend, you're guaranteed to make memories to last a lifetime.
Learn about more of the top things to do in Chestertown, MD, and get ready to have an incredible weekend with your family!
Reserve Your Stay at Brampton Inn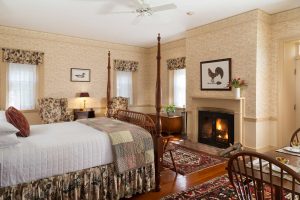 Washington College Parents Weekend is one of the most popular times of the year to visit Chestertown. Families, friends, and loved ones are in town enjoying the gorgeous fall weather along the Eastern Shore of Maryland. It's important to book your accommodation early to ensure you and your family have a convenient place to stay.
Brampton Inn, just a five-minute drive from Washington College, features elegant lodging that makes you feel at home. Our two-floor Fairy Hill Suite features a separate living room, a wood-burning fireplace, an air-jetted tub, and two private entrances. If your student would prefer to stay out of the dorms for a weekend, the suite has the option of accommodating a third guest. Enjoy complimentary breakfast every morning and social hour every afternoon. Our charming inn is the perfect home base for Parents Weekend!
Book Now