Calling all history buffs! Chestertown, MD, is a great destination to learn a little more about our country's rich history. This small town was founded in 1706 as one of the biggest port cities in the state. To this day, it remains one of the best-known Eastern Shore of Maryland historic towns. Looking for more reasons to visit Chestertown? 
Chestertown: Our Top Pick for Eastern Shore of Maryland Historic Towns
Chestertown is one of the most charming and beautiful towns in the mid-Atlantic. Read on to discover the town's must-visit historical spots.
History of Chestertown
Aptly named for its location at the head of the Chester River, Chestertown was Maryland's second biggest port by the middle of the 18th century. The town was incorporated in 1805 and contains nearly two dozen spots listed on the National Register of Historic Places.
Throughout U.S. history, Chestertown has witnessed many significant moments, particularly in the 1960s. During the Civil Rights Movement, the Freedom Riders led the fight against segregation by protesting on Chestertown's own Cannon Street. Today, one of the best ways to experience Chestertown's history first-hand is to take a self-guided African American History Walking Tour through downtown.
Landmarks in Chestertown, MD
Washington College
Every college campus has its own story, and Washington College is no exception. Named after our country's first president, Washington College was founded in 1782. George Washington was instrumental in the college's success, and he served on the Boards of Visitors and Governor's for five years before his presidency. Today, he is the college's most recognized alumnus and received an honorary degree.
Harriet Tubman Underground Railroad Byway
The Harriet Tubman Byway is a 125-mile-long, self-guided driving tour through the state's beautiful landscapes and waterscapes. Along the way, you'll see 36 historic sites significant to the Underground Railroad, including places where Harriet Tubman lived, worked, and helped slaves gain their freedom. Learn more about touring the byway here.
Tip: If you're visiting Maryland's Eastern Shore in Autumn, the byway is also a great place to see renowned fall foliage.
Stay in the Heart of Historic Chestertown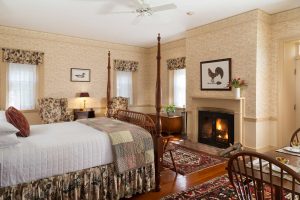 After you've explored the top attractions in our favorite Eastern Shore of Maryland historic town, settle in for the night at Brampton Inn. Our romantic bed and breakfast has everything you need to feel right at home, including complimentary fresh breakfast, deluxe amenities, and luxurious accommodations. During your next trip to Chestertown, consider reserving a stay in our Sunset in the Garden Cottage. This private cottage room offers gorgeous views of the meadow, a plush king bed, a sitting room, and a wood-burning fireplace for use during the winter months. It's the ideal backdrop for a romantic getaway.
What are you waiting for? Start planning your trip to Chestertown today!
Book Now