Are you dreaming of a relaxing Christmas along Maryland's Eastern Shore? There's simply no place like Chestertown for the holidays! With fresh blankets of snow and endless festivities, this historic town transforms into a winter wonderland each December. From caroling and carriage rides to themed festivals and more, you'll find plenty of ways to get into the holiday spirit here. Read on to learn about the best ways to celebrate Christmas in Chestertown, MD. Then, come celebrate with us at Brampton Inn!
Top 10 Ways to Celebrate Christmas in Chestertown, MD
1. Dickens of a Christmas
When it comes to Chestertown, MD, Christmas events, this one should be at the top of your list! Dickens of a Christmas in Chestertown, MD in 2019 will kick off on Friday, December 6th and run all the way through the 8th. Historic Chestertown provides the perfect backdrop for these Victorian-era celebrations! Get ready for carriage rides, steaming mugs of hot cocoa, live music, street performers, food vendors, a tour of decorated homes, and so much more. Mark your calendar now and come join the festivities!
2. Festive First Friday
Do you need to do some last-minute holiday shopping? You're in luck! First Friday is one of Chestertown's most beloved monthly traditions, and it's even more special in December! This free event coincides with Chestertown Dickens weekend, so you won't want to miss out on the fun. Come drop into the galleries, restaurants, and boutiques that stay open late. Enjoy delicious sips of wine and other goodies while you shop! 
3. Santa's Arrival and the Lighting of Chestertown
Of course, there's no better way to kick off the holiday season than the Lighting of Chestertown. This year's event will be held Friday, November 26th, from 6:30 to 8 p.m. at Fountain Park. Watch the Kent County Community Marching Band herald Santa's grand arrival via fire truck. Then, stroll through the park as it comes aglow with twinkling holiday lights. Hot chocolate, cider, and mulled wine will all be available for purchase. 
4. Christmas Parade
The next day, Saturday, November 27th, is the annual Christmas parade in downtown Chestertown, MD. From marching bands and classic automobiles to extravagant floats and holiday characters, it's a wonderful way to celebrate the season. The parade begins at Chestertown Business Park, proceeds down Lynchburg Street and Dixon Drive, and continues along High Street to Queen Street. It begins at 9:45 a.m., but we recommend arriving early to find a good viewing spot! 
5. Annie: The Musical
You've probably heard of this iconic Christmas classic, but you've never seen it performed quite like this. The Garfield Center for the Arts' production of Annie: The Musical is sure to steal your heart away. Performances will be held on Fridays, Saturdays, and Sundays from November 22nd through December 8th.
6. Nutcracker in a Nutshell
Another all-star production at the Garfield Center for the Arts, Nutcracker in a Nutshell is a 30-minute rendition of Tchaikovsky's famous ballet. The performance will be held Tuesday, December 10th at 7 p.m. Admission is free although donations are welcomed. 
7. The Chester River Chorale's Annual Holiday Concert
Hark! The Herald Angels Sing! Don't miss the Chester River Chorale's annual holiday concert at the Presbyterian Church of Chestertown. The performance will be held on Friday, December 13th at 7 p.m. or Saturday, December 14th at 4 p.m. Listen to all your favorite Christmas classics and feel free to sing along! 
8. Winterfest Wassail
History-buffs won't want to miss out on Winterfest Wassail at The Historical Society of Kent County. Enjoy extended hours at the museum and shop on December 6th from 5 – 7 p.m. Take your time browsing the exhibits while you enjoy warm cider and tasty small bites. "A Christmas Carol" will be playing softly in the background, adding to the holiday ambiance. 
9. Lighted Boat Parade in Rock Hall
Just 15 minutes from Brampton Inn, the charming town of Rock Hall, MD will host a festive boat parade on Saturday, December 7th. After a quick boat ride through the Chesapeake Bay, Santa and Mrs. Clause will glide into the Rock Hall Harbor, followed by a parade of decorated vessels. When Santa arrives on land, he will travel to Main Street and officiate the lighting of Rock Hall's beloved Crab Basket Christmas Tree. Afterward, stay and roast s'mores over the fire!
10. New Year's Eve Party
If you missed out on the Christmas celebrations, don't fret! Guests of Brampton Inn are invited to join us for a fabulous New Year's Eve Party on December 31st. Join us from 6 – 7 p.m. for a festivities party, an elaborate appetizer buffet, and a champagne toast. Visit our website for more details and come celebrate with us!
Make it a Christmas to Remember at Brampton Inn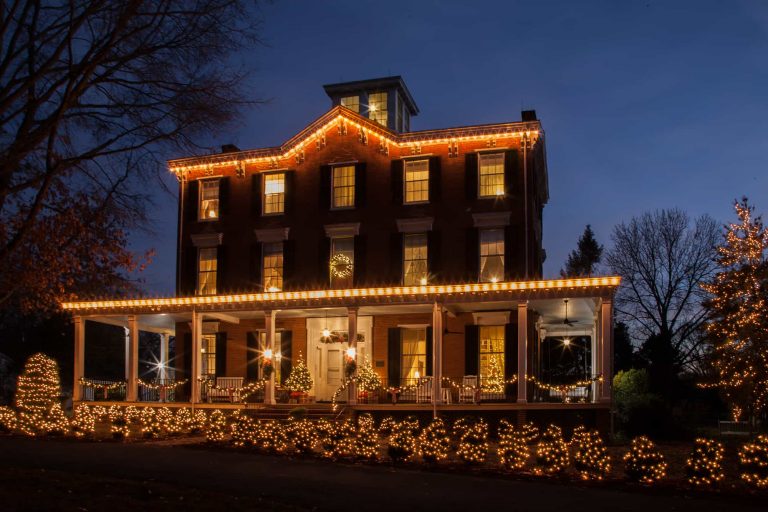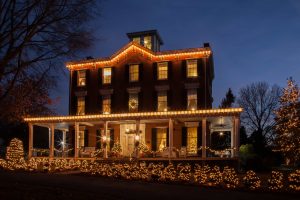 Now that you are ready to celebrate Christmas in Chestertown, MD, it's time to plan your trip! With comfortable accommodations and top-notch amenities, our romantic Maryland bed and breakfast is the ideal choice for a winter getaway. Brampton Inn is located near all of these exciting holiday events, as well as the best attractions, local restaurants, shopping, and more. Begin each morning with a delicious complimentary breakfast to send you on your way. Then, come back in the afternoon for tasty appetizers and refreshments in the dining room.
After a fun-filled day exploring winter wonderland, come warm up beside the fire in our Mulberry Cottage. Privately located near the edge of the woods, this intimate cottage retreat features a King bed, a Japanese soaking tub, and a wood-burning fireplace. This accommodation is still available for Christmas, but our rooms are cottages are filling up fast! Make sure to take advantage of our current winter special and book your stay today. We can't wait to welcome you! 
Book Now