Ready, set, go! It's almost time for the Rock Hall Triathlon and this is one competition you won't want to miss. Each spring, athletes from near and far flock to Rock Hall, MD, to swim, bike, and compete in an exciting race to the finish line. The beautiful course is both rewarding and challenging, and well worth the trip to Maryland's Eastern Shore. Here's what you need to know about this year's event.
If you're planning to compete in the Rock Hall Triathlon, we invite you to book your stay at Brampton Inn. Our Eastern Shore of Maryland inn is close to all the action but offers a peaceful retreat where you can enjoy total rest and recuperation. We still have availability for the race weekend and would love to welcome you! 
About the Rock Hall Triathlon 2020 
This year's triathlon is scheduled for May 30 – 31, 2020 in beautiful Rock Hall, MD. The swim takes place in the Rock Hall Harbor in the Chesapeake Bay, protecting competitors from choppy and windy conditions. Next, athletes will take to the bike course, which winds along the rural countryside and offers wide shoulders throughout. Finally, the race commences with a flat run through the charming neighborhoods of Rock Hall. After you cross the finish line, celebrate with a delicious post-race spread and DJ-spun music. All participants will also receive a commemorative T-shirt, custom race socks, and a Rock Hall-themed Finisher's Medal.
Race Information
The competitions officially kick off May 30th at 8 a.m. with the Rock Hall Olympic divisions. This first triathlon consists of a 1.5K swim, a 24.5-mile bike, and a 10K run. There is also an Aquabike competition which includes the 1.5K swim and 24.5-mile bike ride. 
The next day, Sunday, May 31st, is the Rock Hall Sprint. This triathlon includes a 750-Meter Swim, a 15-mile bike, and a 5K run. The Aquabike competition includes the 750-Meter swim and 15-mile bike. Are you really looking for a challenge? Competitors also have the option to race both days! Check out the Rock Hall Triathlon website for more details and information.
Where to Stay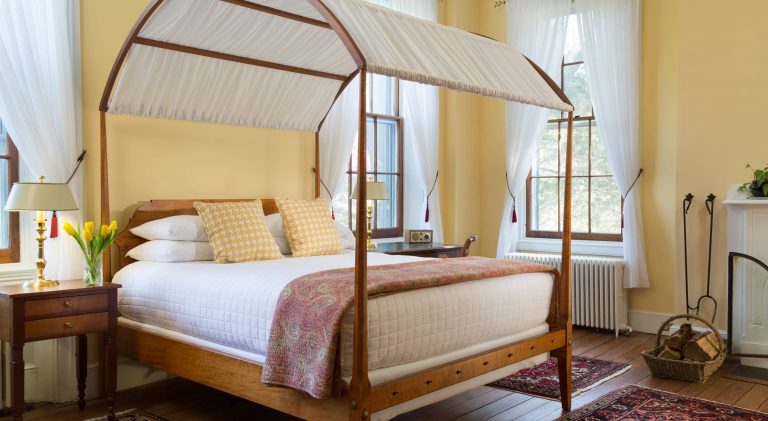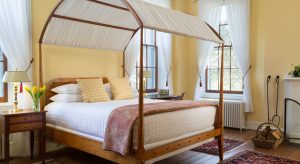 When it comes to the best lodging near the Rock Hall Triathlon, look no further than Brampton Inn! Our Chestertown bed and breakfast is located just a stone's throw from Rock Hall and offers the ideal accommodations for your stay. You'll love being close to the triathlon but away from the hustle and bustle that comes with race weekend. Come unwind in your luxurious guest room or soothe those sore muscles with a relaxing massage at the inn. You'll find endless opportunities to rest and restore after a day at the races.
Brampton Inn's rooms, suites, and cottages feature top-notch amenities to ensure your stay is a comfortable one. You can also expect to start off each morning right with a delicious, handcrafted breakfast to send you on your way. If you need to get up before sunrise, just let us know! We are always happy to accommodate an early morning breakfast. Then, come back to the inn for our afternoon Tea Time and Social Hour. We'll have an array of tasty appetizers, snacks, and refreshments waiting for you! 
Book Your Stay at Brampton Inn!
Are you ready to have an amazing time at the Rock Hall Triathlon? Our accommodations are already starting to fill up for race weekend, so don't delay! Check our availability and book your stay today! We look forward to seeing you soon.
Book Now