This Hummingbird Cake is a guest favorite! Our guests have been asking for the recipe for years and Chef Carole has never given it up… until now! The first time she baked it while I was nearby, the aroma reminded me of my Mom's banana bread – yum! I had never had it before and frankly if you would have told me in advance that there was pineapple and coconut in it, I would have never tried it. However, it is delicious!
Not to mention Carole's cream cheese frosting, which is not only mouth-watering, but addicting! If I could get her to make me a bowl of it, I could just eat it by the spoonful! Now there would be a sight to see. 😉 Carole make's it with different toppings – sometime chopped nuts and sometimes dried pineapple flowers. Try this delectable recipe yourself for a little taste of our Chestertown, Maryland Inn at home!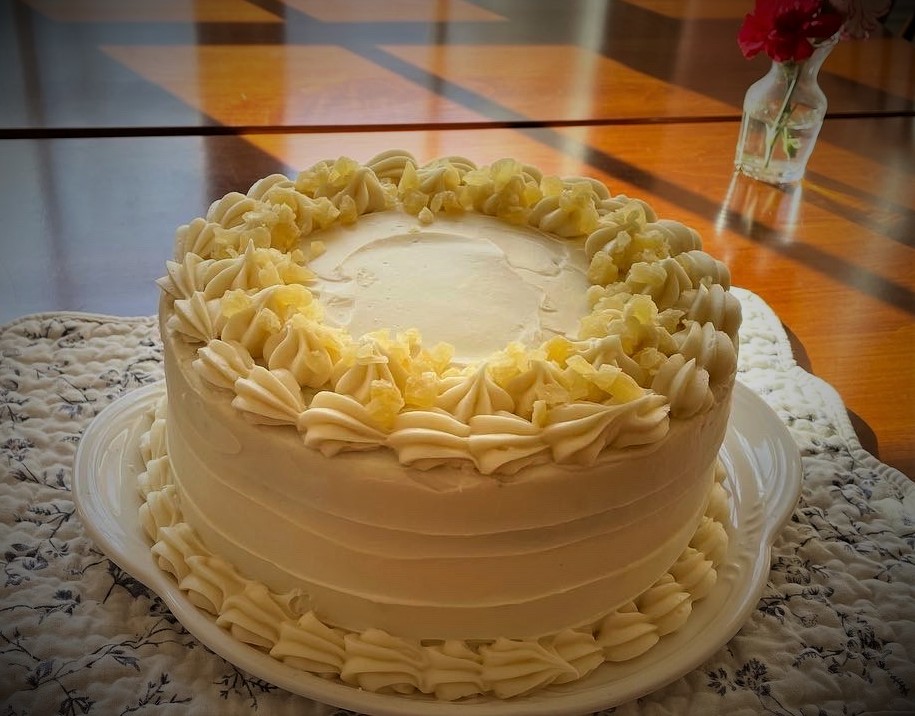 Ingredients
Unsalted butter at room temperature for pans
3 C. all purpose flour
1 t. baking soda
1 t. cinnamon
½ t. salt
1 C. vegetable oil
2 t. vanilla extract
2 C. sugar
3 large eggs
2 C. mashed bananas (3 large)
1 can (8oz.) crushed pineapple, drained
1 C. chopped pecans or walnuts
1 C. coconut shredded
For Cream Cheese Icing:
1 pound of cream cheese
2 t. vanilla extract
1 C. unsalted butter
2 pounds of sifted 10X Confectioners Powdered Sugar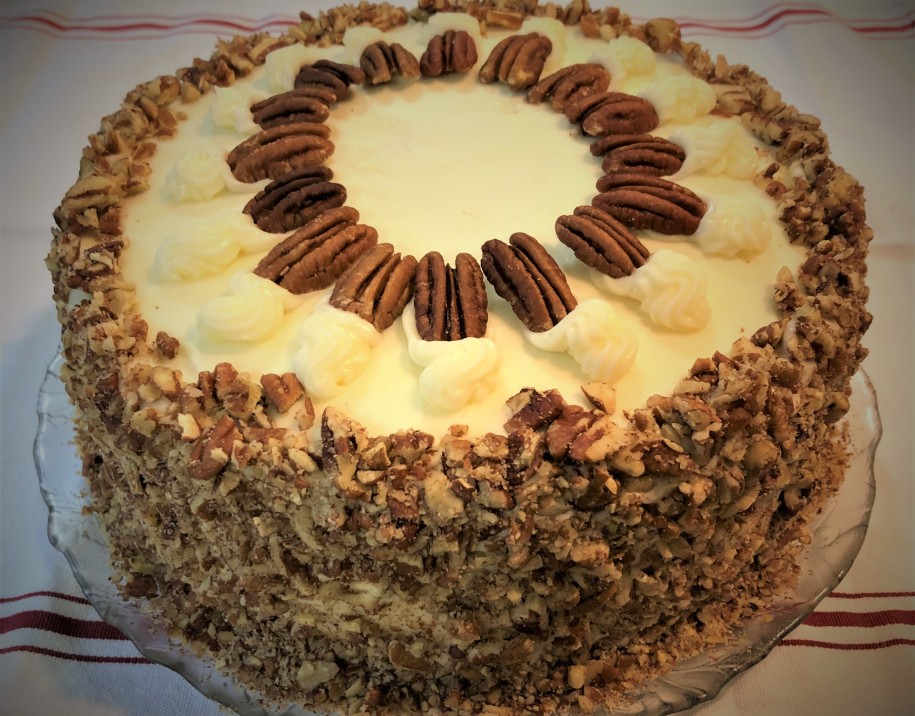 Method
Sift flour, baking soda, cinnamon and salt. Preheat oven to 350 degrees with rack in center. Butter (2) 9×2" round cake pans line with parchment paper.
In a bowl with paddle, beat oil, vanilla, sugar for approximately 2 minutes. Add eggs one a ta time, continue beating for 5 minutes.
In a separate bowl mix bananas, pineapple, nuts and coconut. Add to egg mixture and stir until combined.
Divide the batter into pans and bake for 30 to 40 minutes rotating pans half way through baking. Refrigerate after frosting.
Add chopped pecans of walnuts if desired.
To add dried pineapple flowers, turn oven on to 225 degrees, place parchment onto sheet pan, slice skinned pineapple thin, back for 30 minutes, then flip over and bake for 25 to 30 minutes. Refrigerate up to 3 days.
Prepare icing 20 minutes prior to serving at room temperature.