Autumn in Maryland means gorgeous fall foliage and unforgettably fun festivals. One of our favorite ways to celebrate the season is by attending Downrigging Weekend in Chestertown, MD. This event is one of the largest annual tall ship gatherings on the East Coast. Don't miss the celebration in November!
What to Expect at Downrigging Weekend in Chestertown MD
Downrigging Weekend is one of our favorite annual events in town. Learn more about the festivities below and get ready to book your trip to Chestertown!
What is Downrigging Weekend?
Every November, Downrigging Weekend marks the end of the sailing season. The festival is put on by the Sultana Education Foundation, an organization dedicated to helping students appreciate the Chesapeake Bay. The weekend celebrates this natural treasure as well as the people of Chestertown.
The festival started in 2001 when two schooners sailed together down the Chester River before they "down-rigged" for the winter season. Today, the weekend gives attendees the chance to spend time touring a fleet of tall ships in one of America's best preserved historic seaports.
Things to Do at Downrigging Weekend
Whether you're looking for a maritime experience on or off the water, you're in luck! Downrigging weekend features a variety of activities, including performances by world-class musicians and lectures by nationally recognized authors and filmmakers. Grab a bite to eat in the Festival Village, watch a film, or walk along the waterfront. On Friday night, enjoy a spectacular fireworks display and ship illumination to kick off the celebration.
Of course, there are also opportunities to go sailing aboard one of the magnificent tall ships. We highly recommend booking your tickets, as sailing along the picturesque Chester River is one of the best ways to experience the great outdoors.
Check out the full festival schedule for more details.
How to Get There
During the weekend, expect to see a waterfront packed with ships, schooners, and wooden boats. If you aren't on a tall ship, Sultana's Festival Village is the place to be! The village is located at 207 S. Water Street along the Chester River.
Touring the tall ships and enjoying the musical performances are free and open to the public. However, if you wish to go sailing as part of a fleet of majestic tall ships, you will need to reserve tickets in advance. Ticket prices range from $25 to $60.
Reserve Your Room at Brampton Inn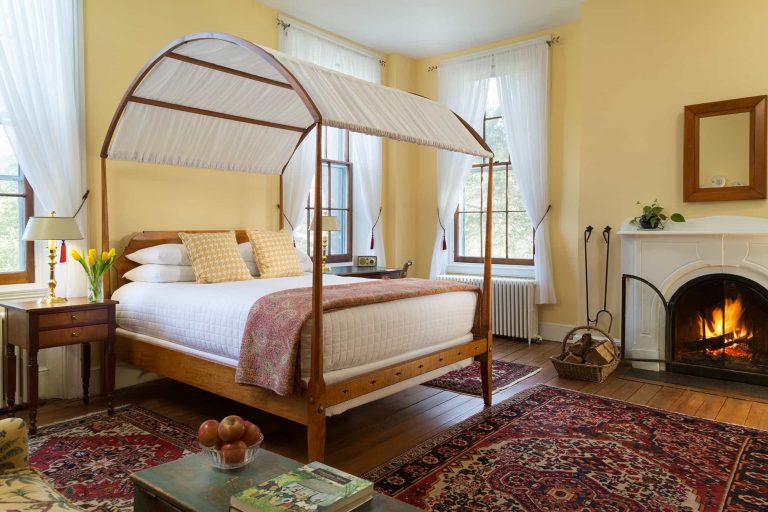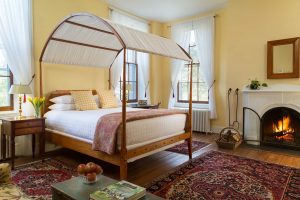 You won't want to miss three days of fun at the Downrigging Weekend in Chestertown, MD! Once you've purchased your tickets, you'll need a comfortable place to stay along the Eastern Shore of Maryland. At Brampton Inn, our bright and airy accommodations are perfect for a romantic getaway or a weekend with friends. Enjoy delicious homemade breakfast every morning and a decadent tea time every afternoon. When planning your next trip to Chestertown, consider booking our Yellow Room. This second-floor room features a plush queen canopy bed, an air-jetted tub, and a TV with a DVD player. You'll love every minute you spend in this deluxe accommodation.
Book Now